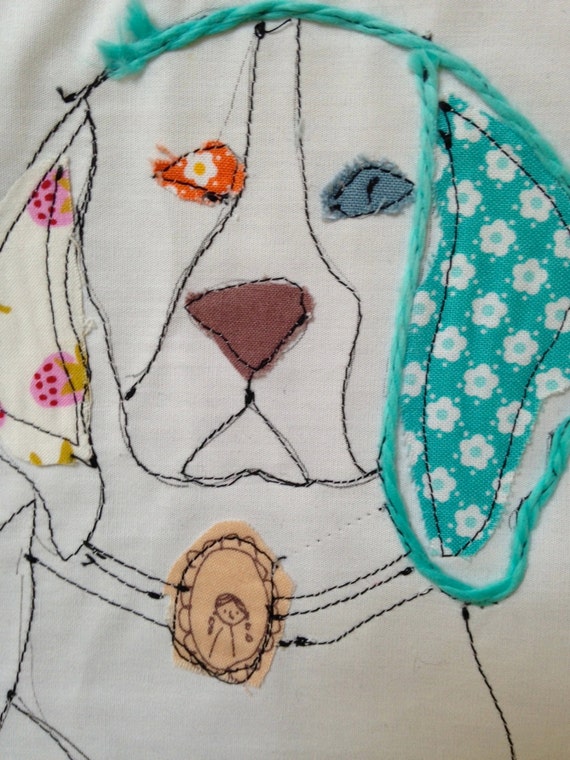 It is cold here.  Really quite so for our neck of the woods.  There is always a month or two in a year when I wonder if the chickens are getting too chilly out there.  I think we should create more of a wood wall on the side where there is just wire.  Brad says: They're just chickens.  In my book they are the only animals on the property who actually give something back in exchange for food and lodging.  I say let's make the dogs sleep in the coop and bring the chickens in.
I'm back into the world of work.  Quilts being made, and now that an awaited shipment has come in I can start on some more sewn sketches.  I haven't been at the art show in quite some time and  quite frankly, I'm not missing it too much.  I would much rather do only retail (and sell on Etsy.)  Every week I think it might be time to get my butt back down to the show but...something else comes through and I can stay at home another Sunday.  Happy good.
I promised myself I would make the girls each their own twin quilt this Christmas.  All this time I've been selling crib and "throw" size.  A true twin size quilt is a totally different beast.  I plan to make one or more for the store.  Sew. Sew. Sew. Sew.   I'm still playing catch up in the store by the way, and there should be new things there every few days now. If you are wanting something specific and you don't see it, please let me know.
Our tree went up yesterday and we had to move some furniture around (thus the piano next to the dining room table.)  My, but what a big and beautiful tree. Next year, however, we think we might instead get a small live tree and plant it after the holiday.  It would be a nice tradition, would it not?  I hate to say it....but killing turkeys and chopping down trees is really a very weird way to celebrate, right?  In my heart of hearts I  think we - as a culture-  have lost so much consciousness in these holiday acts of ours. I tell myself it's ok to question these things instead of ...sort of...blindly following along.  Sure, I bought a turkey from the most conscious farm I could find.  Is there an even better way?  It's a thought.
In the meantime, gosh. I love this tree.  It's so gorgeous and I appreciate it everytime I look at it. 
Brad reminds me often that you can take the girl out of the hippie, but you can't take the hippie out of the girl.  I guess he's right.  I'm a tree-hugger.
Brad: Honey, it's just a tree.  
Me:  Take the "just" out of it.  It's not "just" a tree.  Ok?  Brad?  Like...it's not "just" a chicken.  
Brad: Yeah...It's a really beautiful tree.
Me: Yeah Brad.  It gave its life to be here, you know.  Unwillingly, I would guess.
Kid from next room: Is mommy going to cry?
Brad: We really need to get you a live tree next year.
Me: [sigh] Yeah.





XO